ALL-IN-ONE QUALITY & PERFORMANCE MONITORING
We keep track of your site's quality & performance.
⚡ Daily quality & performance tests.
🧪 Tested from both Mobile & Desktop.
📊 Powerful & intuitive reports.
Start your free trial now
Start your 14-day free trial now. No credit card required.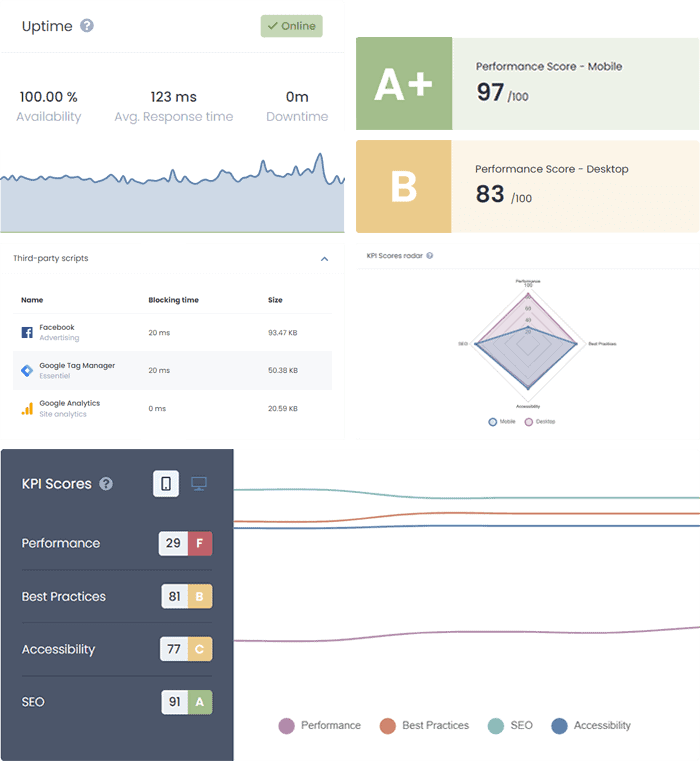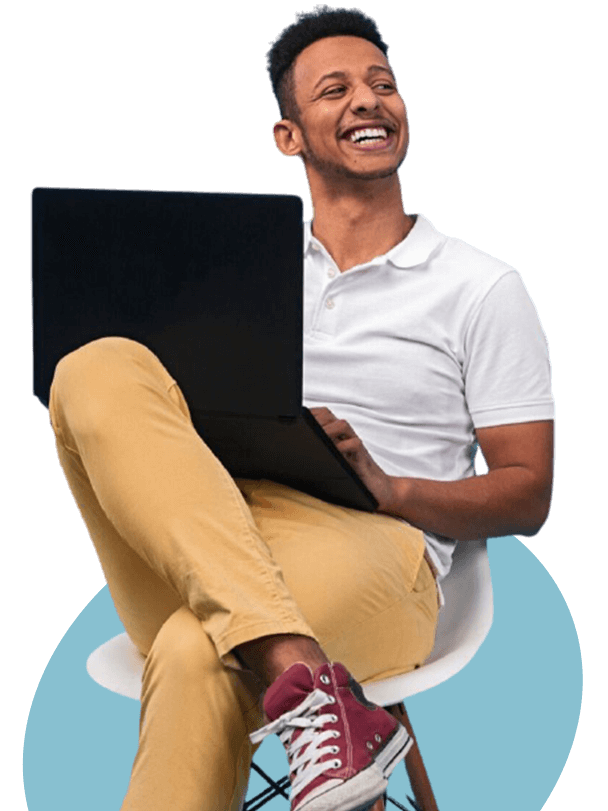 Powerful features
Give your visitors the
experience they deserve 👏

Track speed & performance
Dive into our powerful performance report that captures valuable data about your site's speed. We track daily from both Mobile & Desktop.

Detect issues and bugs
Quickly locate and fix issues on your site. We test daily for performance, SEO, best practices, and accessibility issues and guide you on fixing them.

Monitor uptime & domain health
Put your mind at ease. We monitor your site's uptime every 5 minute – 24/7. We also analyze your domain for connection to malware servers and more.

Benchmark against competitors
"Keep your metrics close and your competitor's metrics closer." – Don't get overtaken by your competitors – benchmark against their scores.
Speed & performance tracking
A slow website cost you
customers and rankings.
Your site load time is critical for user experience as well as SEO. Nobody likes a slow website.
We track your page's speed & performance daily – from both a Mobile & Desktop device.
Capture important metrics such as:
Load time
Page size
Web vitals
Requests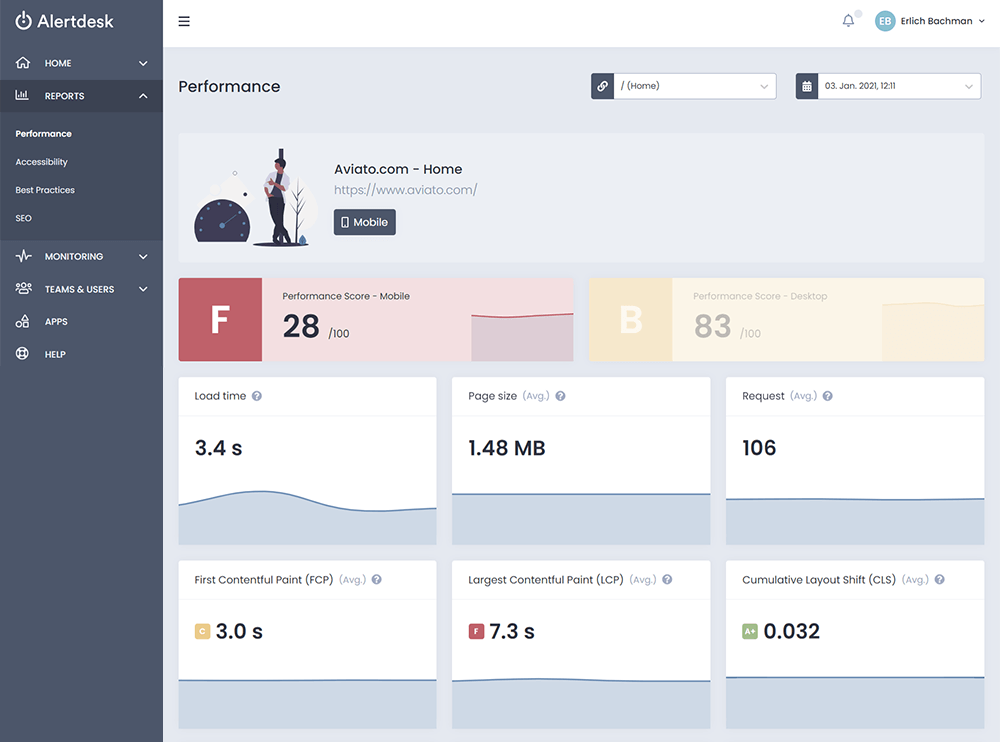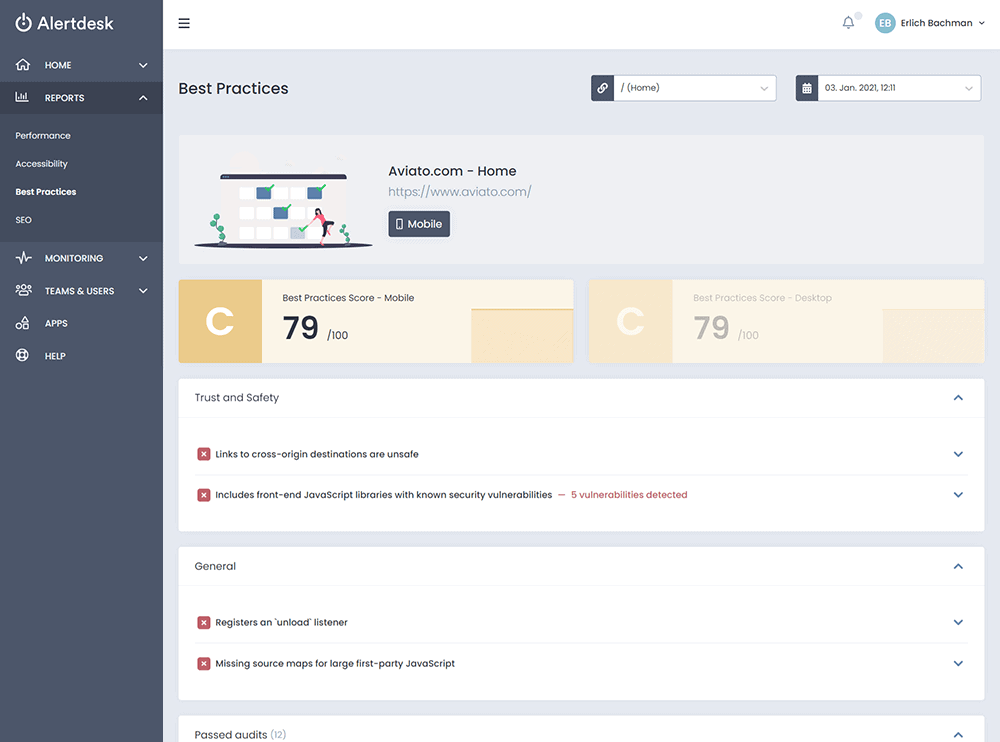 Issues & bugs detection
Errors happen. Catch them before your customers.
There's no doubt about it – errors suck.
But do you know which kinds are the worse? The ones that go unnoticed by your team.
We test for errors on both your Mobile- and Desktop website. Detect issues such as:
Performance issues
On-page SEO issues
Best practices issues
Accessibility issues
Uptime & Domain health monitoring
Make sure your site is running and healthy.
Be the first to know if your website goes down. We monitor your site every 5 minute 24/7 and notify you instantly if downtime should occur.
To ensure that your domain is as healthy as a horse, we also monitor:
SSL Certificate validity
SSL Certificate expiry
Domain expiry
Domain malware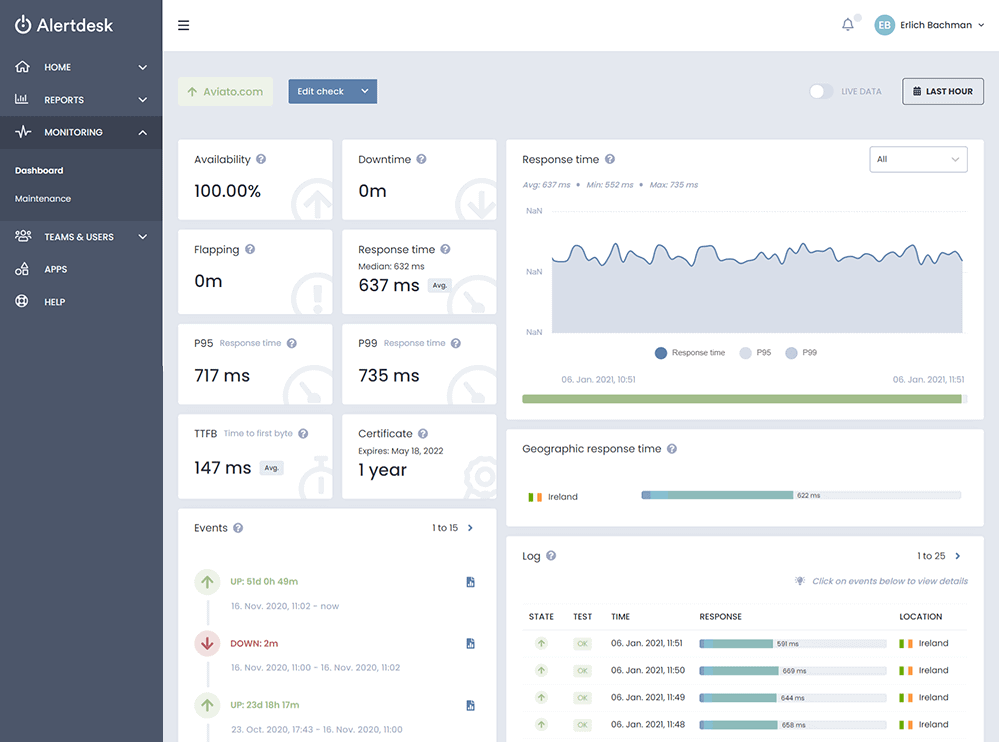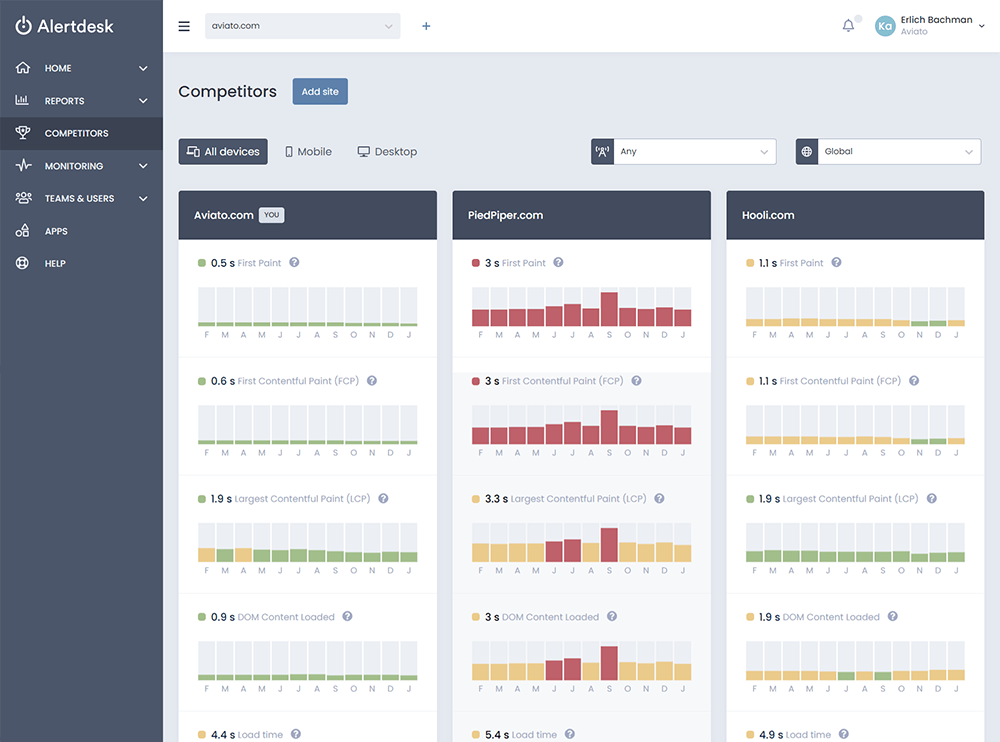 Competitive benchmarking
Take a peek into your competitors' metrics.
Get access to your competitor's metrics instantly and see how their sites are performing against yours.
We use data collected from real-world users that shows how they experience the website.
Our data goes 12 months backs* and provides a detailed overview of how many users have had a good, average, or poor experience.
*If data is available for the domain.

Lighthouse-powered monitoring
Developed by Google. Trusted by thousands of developers worldwide.
Our audits are powered by Google Lighthouse, which thousands of developers and website owners use every day.
We have helped our customers save countless hours each month. By using Alertdesk to test and log the results automatically, they have freed up time that was previously spent doing the work manually.
We also helped by providing more reliable and trustworthy data. We use Amazon Web Services (AWS) to run our audits in an isolated and stable environment (same geographic location and same computing resources – RAM & CPU), which means all data are easily comparable.
Each audit is performed on both an emulated Mobile device and an emulated Desktop device.
📱 Mobile
Motorola Moto G4 (Emulated)
Slow 4G (1,6 Mbps) (Simulated)
4x CPU Slowdown (Simulated)
🖥️ Desktop
Desktop device (Emulated)
10 Mbps connection (Simulated)
No CPU slowdown (Simulated)
Testimonials
Don't just take our word for it –
hear what our customers say.
Who is it for
See what Alertdesk can do for you and your company.
Provide your users with the best experience.
Free personal demo
Get a free tailored introduction to Alertdesk
and see the product in action.